First of all, I feel that I need to state that this article is in no way sponsored by anything or anyone other than Sheltering In Place by COVID-19, a musical. That's right - I am going to pair the perfect song to listen to with each color that I have hand-selected for your viewing enjoyment. I'll tell you where this color needs to go and what your life will be like once you've decided, "Does this spark joy? Hell yes, it does." You're welcome.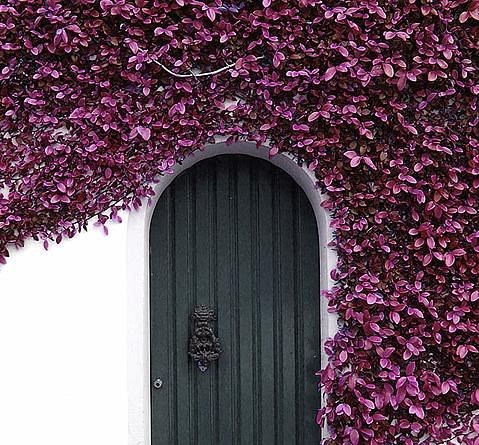 Color: Salamander by Benjamin MooreSong: Safari Song by Greta Van FleetLocation: Backyard She-Shed
It's a beautiful 75 degrees on a partially sunny day. Normally, you'd be trapped in an office right about now with a guy named Gary, who enjoys heating up salmon in the community kitchen and loudly shaking his proprietary protein blend (that he spends weekends peddling to every Crossfit around). Luckily, a pandemic has blown through town and threatened all of our lives, so you get to work from home. By work, I mean you get to sit in on uncomfortable Zoom calls wearing your office-on-top/pajamas-on-bottom outfit, while you slowly (but not that slowly) lose the will to live (Rona, please take me).
So, what you're going to do is take a break, go out back, throw on those garden gloves that you bought on a whim 3 years ago when you wanted to grow your own tomatoes, and start clearing out the flower beds that have never grown anything intentionally. Turn Spotify on to Safari Song by Greta Van Fleet - loud enough that your neighbors can't hear you screaming (because Gary's just as obnoxious virtually).
Once you've screamed out at least 60% of the aggression you've pent up over the years from every time you've been man-splained to, sit back and take a deep breath. Imagine your newly painted She-Shed in a beautifully dark and mesmerizing Salamander by Benjamin Moore - earthy green, with all of the potential it brings.
Color: Intimate White by Sherwin WilliamsSong: Dreams by Fleetwood Mac Location: Bathroom
In a world that has been screaming, "TREAT YO SELF" since that Parks and Rec episode in 2011, you've been stockpiling bath bombs, exfoliating cubes, and face masks every chance you get. When was the last time you looked at the expiration dates for the hoards of Sephora samples you've acquired in the past 9 years? It's time to get to work. Head to your bathroom, open up your closet door and start tearing everything out. Don't do it delicately. Don't have any type of system or method to this madness. Grab and throw. Grab and throw. Think about the hours you spent primping yourself in this bathroom for a guy that doesn't even use a conditioner, and throw some more. Okay, now calm down. Grab a kombucha or something a little stronger if you're so inclined.
Turn on Dreams by Fleetwood Mac, take a seat, and look deep into your soul. Imagine a perfectly painted #MillennialPink - Intimate White - a grown-up light shade of pink that's perfect parts feminine and level-headed. Pair it with locally-sourced dried flowers on the window sill, a hanging plant in the shower, and a "Wash Your Hands" canvas you bought from Etsy above the toilet. This is the kind of bathroom you will actually take a bath in and read that book you've been meaning to, about washing your face and not being a pushover anymore. Now, look at the mess you just made. First of all, you don't need all of this nonsense in the name of self-care. That's right: you're going to "Marie Kondo" your bathroom. Grab a trash bag and get your sh*t together. Self-care is important - so are your finances, your self-worth, and your future. Don't throw it away on impulse purchases. Don't make short-term decisions that negate your long-term goals. Don't put what you want to have above who you want to be.
Color: Pale Oak by Benjamin MooreSong: Bloodless by Andrew BirdLocation: Office
You're sitting at your desk surrounded by potted plants that "spoke to you" as you were walking into Trader Joe's on your mission to buy Dark Chocolate Sunflower Seed Butter Cups and Everything But The Bagel seasoning before resigning yourself to your house for two weeks. Priorities, am I right? You have an eclectic pom wreath hung above your monitor to keep you centered when you're reading work emails that give you acid reflux. You've painted your office a warm neutral, Pale Oak by Benjamin Moore of course, that keeps you calm and focused on the task at hand. No distractions here. It's time to work. You place your weighted blanket on your lap before your next Zoom meeting so that hopefully it calms you enough not to throw your laptop when you have to explain for the fifth time how to end a screen share to your co-workers. But today, you won't throw your laptop.
You'll turn on Bloodless by Andrew Bird, grab your black obsidian facial roller, and roll those tension lines away. You'll look around at your carefully-crafted, productivity-focused environment and be thankful. In all seriousness, I hope each and every one of you stay safe and healthy, both physically and mentally. There are a lot of things that we can't control - but we can always control our own mindset, how we react to those around us, and the colors we paint our home.